150th & 151st Annual Commencement Speaker Rashida Jones
Hampton University Alumna Rashida Jones, President of MSNBC; First Black Executive to Lead a Major TV News Network to Deliver HU Commencement Address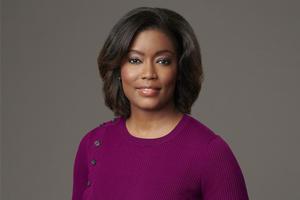 Rashida Jones, President of MSNBC, became the first Black executive to lead one of the major tv news organizations on Feb. 1, 2021.
HAMPTON, Va. (March 17, 2021) — Hampton University President William R. Harvey announced that alumnus Rashida Jones '02, President of MSNBC, will serve as the University's 150th and 151st Commencement speaker on May 9, 2021. Commencement will be held virtually at 10 a.m.
"Ms. Rashida Jones and her professional success are an example of what Hampton University founder Gen. Samuel Chapman Armstrong envisioned when he founded this institution to educate recently freed slaves 153 years ago. His dream was to prepare the best and the brightest to lead our great nation and make a positive impact on the world at large," said Hampton University President, Dr. William R. Harvey. "Her address will truly be well-received on this historic day. Not only will we recognize our graduates, but this ceremony will also recognize Hampton University taking another major step towards returning to normalcy since the beginning of the pandemic. Ms. Rashida Jones'star is among the brightest in her field. She will inspire and enlighten our graduates as they prepare to make their own historical marks on the world."
Jones is a 2002 Hampton University Mass Media Arts graduate and has had a very successful career in the journalism industry. Jones became the first Black executive to lead one of the major television news organizations when she assumed her current position Feb. 1, 2021. Under Jones' leadership, MSNBC finished February as the #1 network in all of cable television. The historic victory comes during a month of around-the-clock breaking news, including the second impeachment trial of Donald Trump, the first full month of the Biden administration and the ongoing Covid-19 pandemic.
Her industry credits include news director of WIS-TV, director of live programming and executive producer for The Weather Channel, as well as producer for WTKR-TV. Prior to her appointment, Jones severed as the senior vice president for MSNBC and NBC News, succeeding longtime network president Phil Griffin. As senior vice president, Jones led breaking news and major events coverage, including helping oversee the second presidential debate, which NBC News' Kristen Welker became only the second Black woman to moderate a presidential debate solo. Jones also oversaw MSNBC's daytime and weekend programming.
In 2019, Jones was inducted into the Hampton University Scripps Howard School Hall of Fame.